Here are the highlights:
# Counting of LS polls will take place on May 16: EC.
# There will be 9 poll days starting from April 07.
# Elections to be held on April 7, 9, 10, 12, 17, 24, 30, May 7 and May 12.
# 9 polls days will cover 543 constituencies and respective Assembly constituencies.
# Second phase of poll on April 9 to cover seven constituencies in five states.
# Third phase on April 10 to cover 92 constituencies in 14 states.
# Fourth phase is on April 12 covering three states and five PCs.
# Fifth poll day is April 17 covering 13 states and 122 parliamentary constituencies.
# Sixth poll date is April 24 covering 12 states, 117 PCs
# Seventh poll day is April 30 covering89 PCs in nine states.
# Eighth poll day is May 7 covering seven states and 64 constituencies.
# Ninth poll day is May 12 covering three states and 41 constitutencies.
# EC says all Naxalism-hit seats will be covered in one single day.
# UP and Bihar will be going to polls on the same days.
# Delhi and Haryana will have one poll day, April 10.
# Jharkhand will have three poll days April 10, 17 and 24.
# EC appeals to candidates not to use words that cause personal hurt to rivals.
# There will be flying squads, check posts to keep an on money power: CEC.
# EC has taken measures for expenditure monitoring. Use of money power is a matter of concern: CEC
# Examination schedules for state,central education boards need to be considered for election schedule: EC.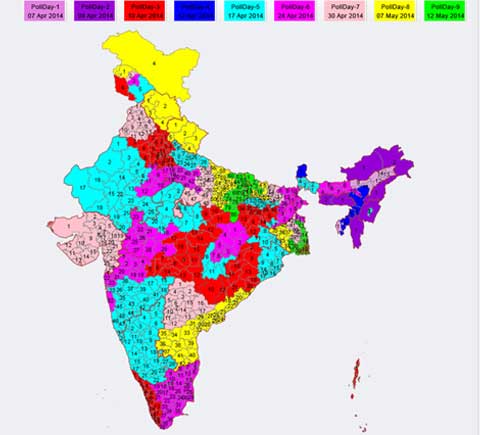 Source : http://indianexpress.com/